Attention New Entrepreneurs, Authors, and Those Who Want to Work From Home…

"Have You Thought About Mentoring With Me For Awhile But Hesitated For One Reason Or Another?"
[Perhaps It's the Investment, or That You Don't Have Any Ideas, or You Have Too Many Ideas About What to Do, or You Don't Know Me Well. If it's the Cost of Mentorship, I'll Wait While You Scroll to the Bottom of This Page…]
Mentoring With Me Has Never Been So Simple and Affordable…It Definitely Is Right Now!
I'm Connie Ragen Green and I have been working exclusively online for eleven full years now. When I first encountered the world of online marketing back in the spring of 2005, I was enthralled with the idea of "making money while I slept". I soon discovered that this was hard work and set about to learn as much as I could during my every waking hour. And one part of being an online entrepreneur was glaringly obvious to me immediately…I was going to have to find the right mentor in order to build a profitable online business and become an entrepreneur.
Now I am a Mentor to a select group of people who trust me to guide them in a way that enables them to work from home, or from wherever they happen to be, replace the income they formerly earned at a job, and to be a part of the wonderful world of online marketing, Every couple of years I offer an affordable way for more people to learn from me, and this Spring Jump Start Intensive is only the second one I've offered since 2015. You'll learn exactly what you need by looking over my shoulder, receiving my guidance in how the strategies and methods used by me and so many other successful online entrepreneurs will work for you, and having a personalized "Plan of Action" to get started immediately. I'll answer all of your questions, give you personal homework assignments, and share all of my secrets with you. I am known for not holding anything back when I teach others and I take that as a great compliment. And it won't be long before you'll be earning income while you sleep as well!
I Want to Teach You How to Build Your Online Business Quickly and Effectively – During the Summer of 2017…
Introducing:




The Spring Jump Start Intensive…


Now In Home Study – Includes Two One-on-One Calls!

                   

Back By Popular Demand! This Group Is Like "Cheers" Where Everyone Will Know Your Name!

          An Eight Week Opportunity to Work with Me
to Learn The Skills and Exactly What Is Involved in Becoming An Online Entrepreneur
For 2017 And Beyond
The 2017 Spring Jump Start Intensive Includes How To Start From Wherever You Are Right Now and Build an Online Marketing Business To Earn Your Primary Online Income or to Supplement Your Current Income as You Build Your Business as an Entrepreneur!

You Will Have Access to More Than 26 Hours of Training From the Live Spring Jump Start Sessions I Taught This Spring…
This Includes How to:
Determine Where You Are Right Now to Know the Logical Next Step
Evaluate Your Assets and Move Forward in the Right Direction
Receive Personalized Guidance on Creating a Product or a Service

Set the Wheels in Motion for the Technical Parts of Your Online Business
Be Held Accountable to Me and To Our Group for Your Progress
You'll Look Over My Shoulder During This Intensive

You Move Forward at Your Own Pace

If You Don't Yet Have a Website, You'll Get One Set Up

If You Need an Information Product, You'll Know Exactly What to Do

If You Need Technical Help, I'll Share My Resources With You
If You Need Accountability, I Will Be There For You
You'll Have Two One-On-One Calls With Me (NOT TIMED!)

The Spring Jump Start Home Study Intensive is The Beginning Of Your Success
The Truth Is…
You only need a half dozen like-minded people to build a seven figure business
You will have access to the exact people you need in your "Circle of Influence"

I'll teach you how to connect and interact with others for maximum results

The people I met during my first year and a half online are still the ones upon whom I depend when it comes to product creation, affiliate opportunities, masterminding, sharing resources, and brainstorming new ideas.

This Intensive Program Can Be All of That and More for You!
My Motto Is To "Keep It Simple"
Just as I do with my Online Marketing Incubator and Platinum Mastermind clients, my goal with the Spring Jump Start Intensive is to keep it all simple. By this I mean that you will only be exposed to what you need and what is working for me and for other successful online marketers. My promise to you is to not waste any of your valuable and precious time with training and assignments that are not absolutely crucial to your personal success.
Instead of teaching you WHAT  to do to grow your online business, I'll be teaching you HOW  to do it with the exact, step-by-step techniques and strategies that will have you up and running faster than the speed of light and sound!
Because I've been doing this full time for eleven years now, I feel uniquely qualified to help you move forward in the right way. And your success as an online entrepreneur is my greatest reward!
The Spring Jump Start Intensive Is A Great Opportunity For You to Accelerate Your Success

Regularly I am asked whether or not the window of opportunity has already closed for new online marketers and entrepreneurs when it comes to building a profitable business. This is my take on that…
The Reality…
You MUST have a mentor to achieve the results that are needed in today's world of online entrepreneurship.
The Problem…You believe that you can go it alone or sign up for course after course and buy endless information products instead of being mentored by someone who is doing this successfully every single day. You may also feel like attempting to achieve your goals could just be a big waste of your time, energy, and money with little or no payoff to show for it.
The Solution…My Spring Jump Start Intensive will make all of the difference. This program will turn you into an effective and unstoppable Online Marketing Entrepreneurial Machine. I am dedicated to making this experience one that you will never, ever forget because of what you will achieve during our time together.
If You've Always Wanted To Earn Income Online, and Learn From Someone Who Lives This Lifestyle Every Day, This Is Your Opportunity!
I worked as a classroom teacher for twenty years, and during that time I had absolutely no control over my income. One year the union had us go on strike for two weeks, and I had zero income during that time. If I hadn't been working part-time in real estate on the side, my house payment and other bills would have been late or not paid at all. Having your own online business is the best hedge against inflation and a weak economy.
Not everything being taught online today will work for you, just as much of it didn't work for me back in the early years when I was first getting started. I'll help you to sort out what makes sense so that you can move forward confidently in your own online business. This is the "each one, teach one" philosophy that I love about the online marketing world.
I've been earning my income online eleven full years now, since the spring of 2006, so it just makes sense that I've had more opportunities based on this longevity. No matter where you are right now, you can achieve great things during your two months of focused action and mentoring with me.
I believe that my story is an inspiring one. I became a "super affiliate" with just a few hundred names on my list, count most other successful online marketers as friends and have them on speed dial, and have access to some of the most brilliant minds now working online. I wasn't a writer until coming online, and now I have fourteen bestsellers to my name. If you're just getting started, have no list or a list of fewer than a hundred names, it makes sense that you will need different tactics and strategies to rise to the level you want and need as an entrepreneur. And that is exactly why I feel uniquely qualified to take you by the hand and help you to accelerate your progress during the next eight weeks.
---
Please Consider Joining The Spring Jump Start
Home Study Intensive for 2017!
---
The 16 Recorded Sessions Include…
Session 1 – Where Are You Right Now? What's the Next Logical Step?

We will gather on a group webinar and take a look at where you are right now
I'll show you how I got started back in 2006, and what is different in 2017
You'll have a plan of action to jump start your progress for the next 7 days
You and I will plan your first one-on-one call with me
Session 2 – Getting Into the Flow of Productive Entrepreneurship

What do you need to do each day to create your business online?
How can you jump start your success with help from others?
Where does content creation fit into online entrepreneurship?
Determining your special gifts and talents to share with the world
Session 3 – What's For Sale?

Should you create your own product or start with affiliate marketing?
What about membership sites?
Session 4 – Bringing It All Together

Connecting the pieces of online entrepreneurship
Session 5 – Your First Joint Venture

How you can JV with me
Widening your "Circle of Influence" online
---
BONUSES
VIP Ticket to My Weekend Marketer Live Event Workshop in Los Angeles April 2018 – This is a $299 Value and Your Life as an Entrepreneur Will Be Forever Changed!

Full Credit Towards My Next Live Jump Start Intensive in the Late Fall of 2017
An Opportunity To Have Me Promote An Information Product Through Your Affiliate Link
Recommendations For Technical Assistance And Outsourcers From My Personal Rolodex
---
Just to Recap…
You and I Will Have Two (2) One-On-One Calls (Not Timed!) to Further Refine Your Strategy, Actions, and Goals

You Will Either Create Your Own Info Product or Know Exactly Which Affiliate Products To Promote, Based Upon Your Niche, Experience, and Interests

I Promise To Mentor You to The Best of My Ability, Based Upon Your Willingness to Succeed!
Please Join Me for the 2017 Spring Jump Start Home Study Intensive!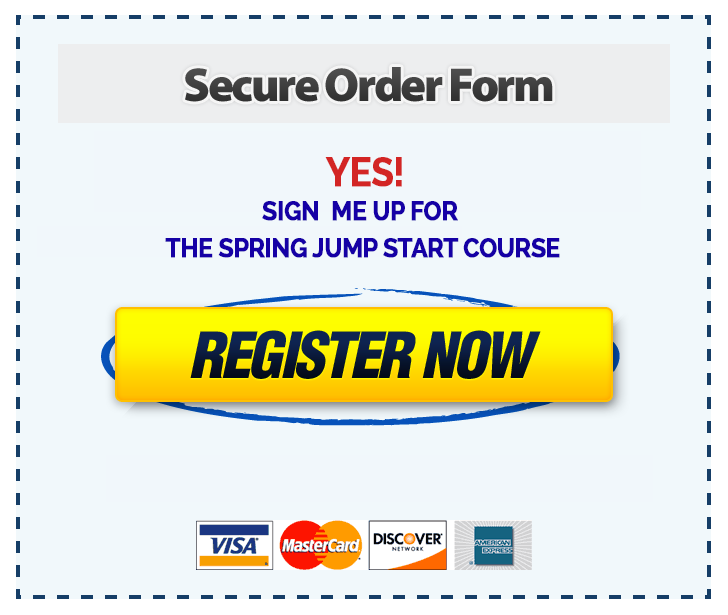 P.S.  I will be teaching this program live again during the fall of 2017. You will receive full credit for your payment in the Home Study when you join the Live Intensive. It's like receiving this Home Study Program for FREE!

Disclaimers and Legal Rights | Affiliate/Earnings Disclaimer | Terms of Use | Privacy Policy